About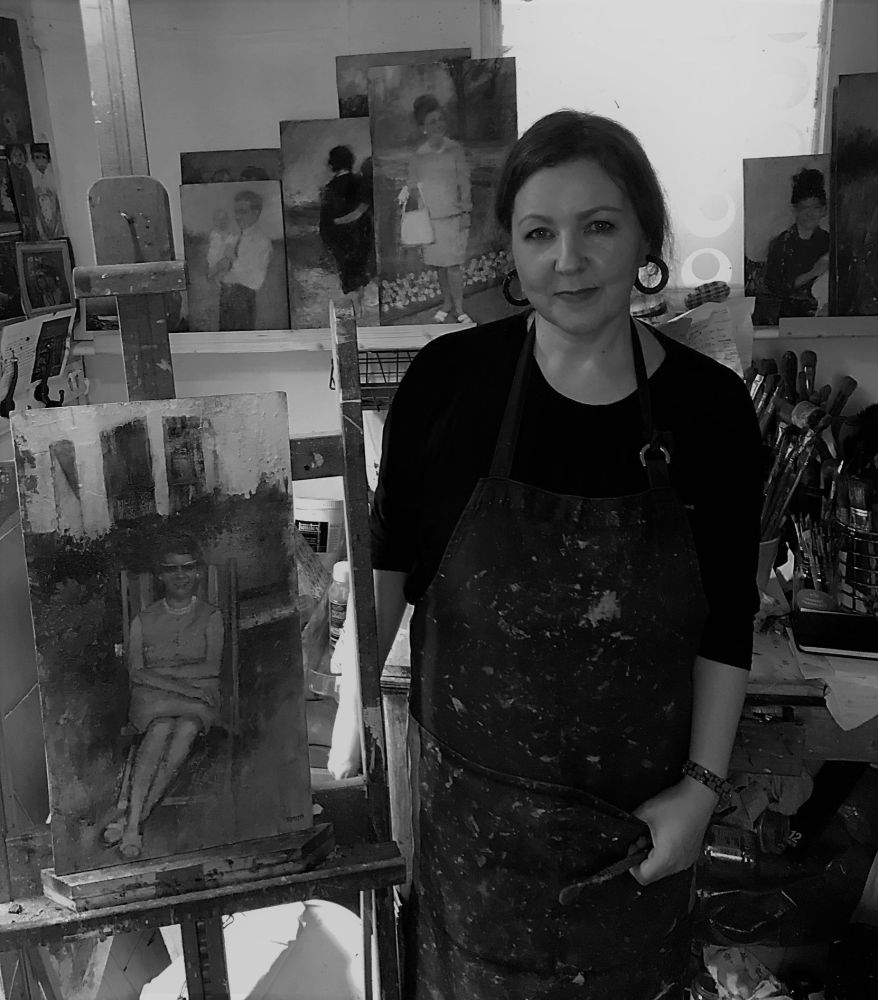 I am interested in the emotional link between painting and photography, using my own family albums to explore themes of memory, nostalgia and longing. I will often find an image that inspires, then add or erase figures, or change faces, clothing and backgrounds, to create expressive, painterly portrayals of joyful and sometimes melancholy moments in life. I especially love to paint beach scenes and bathers.
I am also interested in the powerful timelessness of the sea. I work from sketches and oil studies to create images that are richly textured, semi-abstract and layered.
My paintings are held in public, private and corporate collections throughout the UK and also in Europe, USA, Canada and the Caribbean - including those of Sir Mick Jagger, the Swiss Bank Corporation and Paisley Museum and Art Galleries.
I live in Renfrewshire, Scotland where I have painted full-time for 30 years.
Born Glasgow 1969
Studied
Glasgow School of Art 1987-1991
B.A Hons. Fine Art (Drawing and Painting)
Solo Exhibitions
Lemond Gallery, Bearsden - 6 Person Show
House for an Art Lover, Glasgow - Solo
Richmond Hill Gallery, Surrey - 4 Person Show
Flying Colours Gallery, London - Solo
Paisley Museum and Art Galleries, Paisley - Solo
Flying Colours Gallery, Edinburgh - Solo
Selected Group Exhibitions: 1990-2021
The Biscuit Factory, Newcastle
Lemond Gallery, Bearsden
Paisley Museum and Art Galleries, Paisley Art Institute Annual Exhibition
Mansfield Park Gallery, Glasgow
Lime Tree Galleries, Suffolk & Bristol
McLellan Galleries, Glasgow, Royal Glasgow Institute of Art - Annual Exhibition
Thompson's Gallery, London
Thompsons Gallery, Aldeburgh
London Art Fair, BDC Islington
Compass Gallery, Glasgow
Roger Bilcliffe Gallery, Glasgow
Richmond Hill Gallery, Surrey - Aspect Prize Exhibition
Discerning Eye, Mall Galleries, London
20th/21st Century Art Fair, RCA London, Flying Colours Gallery
Glasgow Art Fair, George Square, Flying Colours Gallery
Chelsea Art Fair, London, Flying Colours Gallery
Gatehouse Gallery, Glasgow
Mackintosh Museum, GSA Glasgow
Flying Colours Gallery, Edinburgh
Flying Colours Gallery, London
Royal Institute of Oil Painters, Mall Galleries London
New English Art Club, Mall Galleries London
Smith Museum, Stirling, John Rae Collection
Stirling Castle Gallery - Historic Scotland
Vicarage Cottage Gallery, North Shields
The Guardian Art Show, Whiteleys, London
Hunting Observer Art Prizes, Mall Galleries London
Victoria Art Gallery, Bath, with Hunting Observer Art Prizes
Kimberlin Gallery, Leicester, with Hunting Observer Art Prizes
Royal Scottish Academy Exhibition, RSA Edinburgh
Christies Contemporary View, RCA London
Awards
Highly Commended Artist, Hunting Observer Art Prizes
Runner-up Young Artist of the Year, Hunting Observer Art Prizes
Winsor&Newton Young Artist Award, Royal Institute of Oil Painters
The Bessie Scott Award, Paisley Art Institute
Aspect Prize Finalist, Paisley Museum and Art Gallery
House for an Art Lover Award, Paisley Art Institute
Public and Corporate Collections
Swiss Bank Corporation
KMM Ltd
Paisley Museum and Art Galleries
Thompson Macleod Design Consultants
Hilton International Hotels
William Grant & Sons Ltd
Commissions
Hilton International Hotel, Glasgow
Thompson Macleod Design Consultants, Glasgow
Paisley Arts Centre, Paisley
Groups
Paisley Art Institute - Artist Committee Member
Published Works
Coastal Living USA - 2017